Award winning Design Director, Author, top-ranking Podcaster (Giant Thinkers) and CreativeLive instructor, Ram Castillo will be revealing clues to design success.
Trailer video link: https://youtu.be/Ed1V1sOTfU4  
He will take you through 12 key action steps to finding a mentor and deconstruct the clutter associated to this pursuit. His new book on this topic is endorsed by many creative and design industry heavyweights including Chase Jarvis (Founder and CEO, CreativeLive), Ben Fullerton (Design Director, Nike+), Kevin Lee (Global Head of Design, VISA) and Nelson Kunkel (National Creative Director, Deloitte Digital).
•  Better understand why you need a mentor
•  Cultivate your value offering to prospective mentors
•  Gather then curate the specific mentors in line with your goals
•  Make contact with and create rapport with your prospects
•  Navigate your way in the mentor–mentee relationship
•  Plus, be part of the live Q&A.

Event Guests:
( Most online ticket registration includes a copy of Ram's Latest Book! Valued at $40 Online!)

Early Bird Tickets BEFORE 11/14

$20 - Both AIGA & KOI members

$25 - AIGA or KOI members 

$30 - NON MEMBER 
AFTER 11/14
$20 w/fee - NO BOOK, Talk Only Ticket

$20 - Both AIGA & KOI members

$35 - AIGA or KOI members

$40 - NON MEMBER
Refreshments available.
Cash or credit accepted for attendance at door (Book availability is not guaranteed for onsite ticket sales)
Membership Perks:
Interested in becoming an AIGA member and get a reduced rate ticket? Click through and specify Brand Central as your chapter
Interested in becoming a KOI member with an AIGA reduced rate ticket? 
You can also sign up for AIGA membership at the door and get a reduced rate ticket, see Michelle at sign in. Credit card only for membership.
Speaker's Bio:
Ram is an award winning Design Director, Blogger, top-ranking Podcaster, Speaker, CreativeLive.com Instructor and Author of two internationally acclaimed books; 'How to get a job as a designer, guaranteed' and 'How to get a mentor as a designer, guaranteed'. He's based in Sydney, Australia and in 2012, started the blog (and now also a podcast) GiantThinkers.com which helps thousands of design students and graduates be employed. Ram has since been featured in Communication Arts, HOW magazine, Herman Miller, AIGA.org and Apple.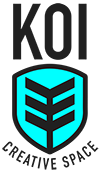 Event Sponsor:
KOI Creative Space is a coworking facility built with the creative professional in mind. With a location in the heart of downtown White Plains, KOI offers sunny, spacious workspaces with above table power/USB ports, blazing fast internet, printer access (at no additional fee), and all the locally-sourced premium coffee, beer, and snacks you think you need to power through the workday. Memberships also include VIP admission to all events (including reduced admission to AIGA events), access to the KOI mentorship network, and more. AIGA members also receive 10% off of any booking - check out koicreativespace.com/aiga-pricing for more information.